Mizuno Mezamashii Run Project Case Study
Mizuno saw immediate growth in strong specialty store sales and quickly achieved a three-year share high.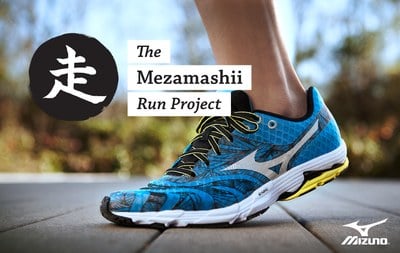 Challenge: The running shoe category, led by giants Nike and Reebok, spent $144 million in paid media from June 2011 to June 2012. Mizuno was virtually unknown in the U.S., with 7% brand favorability and a $1.5 million marketing budget — just 1% of category spend.
Mizuno's best prospects, running junkies, stick to what they know works: Eighty percent know the brand and model of running shoe they intend to buy before they shop, and 90% actually do buy that brand and model. We had to be extremely compelling to disrupt that behavior.
But Mizunos are stiff (for a reason) so they don't feel as cushy and comfortable as the mainstream brands. So trying Mizunos on in the store is far from compelling.
On top of that, Mizunos are priced 35% above the category, including their flagship shoe the Wave Rider, which they had recently redesigned in a way that alienated many within the small group of Mizuno loyalists.
Solution: We took the shoe trial experience out of the store and on the road.
Mizunos are stiff because they are designed for running. Mezamashii is Japanese for brilliant. We put the two together to create the Mezamashii Run Project.
First, key running junkie influencers, from bloggers to running club leaders and celebrities, received 600 handmade, direct mail invitations and a code to order a free pair of shoes at the Mezamashii Run Project site. They were in turn given invitations they could share with fellow runners who they thought would also appreciate a "mezamashii" run. That used up half our budget.
The other half went to paid, owned and earned media to build awareness of the program and offer the overall running public the chance to be among the 100 people chosen to receive a free pair of Mizuno running shoes.
Mezamashii Run Project members continue to get new, relevant and exciting information and offers from Mizuno, like the opportunity to wear-test future products, influence shoe design, and access future models before they become available to the public.
Results: In just 60 days, the Mezamashii Run Project accomplished the following:
Engaged 19,504 Mizuno runners and Mezamashii Run Project members
Welcomed 100,000 new unique visitors to mizunorunning.com, an increase of 52%
Brought 155,859 visits to the Mezamashii Run Project home page through paid and earned media
Gained 25% more Twitter followers
Brand favorability, which was reflected in comments made by Mezamashii Run Project members who rated the shoes they received, grew 54%, from 7% to 10.8%, in the first five weeks of media support.
Of those Mezamashii Run Project members posting reviews, 94% gave top 2 box scores to the shoes and 93% said they intend to buy Mizuno shoes in the future.
Mizuno saw immediate growth in strong specialty store sales and quickly achieved a three-year share high.