Wireless is Heavenly
| filed under: Geek, Laptops, Tech, ThinkPads
I do most of my work from the various charming confines of coffee houses like Murkey Coffee (nee Stompin' Grounds) and Starbucks.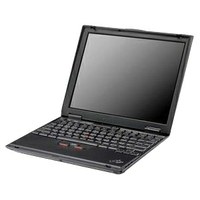 IBM ThinkPad x24
Downtown, I can often find an unsecured wireless access point so that I am pretty much unstoppable. Or at least well-caffeinated.
I am in love with my IBM ThinkPad x24.. With 640M RAM, 30G Hard Drive, a built-in 802.11b with integrated antenna, I am the road warrior. The entire kit weighs 3.7 lbs road-worthy.