Katja Scholz mentioned in the Washington Times
Our favorite Yogini, Doula, and HypnoBirthing guru, Katya Scholz (nee Katja), is mentioned in the following article "Deliverance from the pain" by Michelle Rothman of the Washington Times. Kudos to Katja!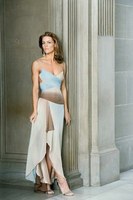 Katja Scholz Brandis
Deliverance from the pain
By Michelle Rothman
Published August 24, 2003

Yvonne Thomas admits giving birth was terribly painful. "It hurts," she moans, just days after giving birth to her second child, Eve. But she endured both deliveries of her children without medication because she wanted to be alert and able to care for her babies immediately afterward. 

"I don't like surgery, and I don't do well with pain medication," says Mrs. Thomas, a Crofton, Md., veterinarian. 

Instead, Mrs. Thomas turned to other methods to cope, including a birthing ball, acupuncture and a tub of water, during her 21-hour labor with Gage, now 2, and her 14-hour labor with Eve, born Aug. 5. 

"There are things to help manage it," she says. "It doesn't take away the pain, though." 

Today's women can choose from many options to manage labor pains — from epidurals and medication to alternative medicine and midwifery techniques. 

Mrs. Thomas spent five days in pre-labor with Gage, experiencing contractions but little progression. A nurse-midwife suggested she try acupuncture, an ancient Chinese method of placing tiny needles in pressure points on the body, to help her relax, she says. 

"I walked in there crying, miserable. I came out calm," Mrs. Thomas says. 

She returned for one more visit, and her labor began progressing. 

"Once she got rid of some of the initial pain and was able to calm me down, that made it so she could actually start addressing acupuncture points that would help organize the contractions, make them more regular," Mrs. Thomas says. 

Women can use acupuncture throughout pregnancy, before and during labor, says Charlyn Santiago, a certified acupuncturist and nurse-midwife who has offices in Ellicott City, Md., and Special Beginnings Birth Center in Arnold, Md., where Mrs. Thomas gave birth. 

"It helps if you just need the edge to come off the pain," she says. "It can help them gather themselves." 

Mrs. Santiago says the way the method works is unclear, and the procedure varies depending on a woman's individual needs. She often treats women whose labor is not progressing or women who are past their due date, like Mrs. Thomas. 

Their labor usually begins about six to 12 hours after treatment, Mrs. Santiago says. But, she warns, if the baby is too big or poorly positioned, acupuncture will not prevent a Caesarean section, the surgical delivery of a baby through an incision in the abdomen and the uterus. 

Because acupuncture is predominantly used in Eastern countries, like China and Japan, physicians in the United States don't have enough data to determine whether acupuncture is safe for pregnant women, says Dr. Barry Rothman, an obstetrician-gynecologist with Physicians for Women, a medical practice in Alexandria. 

Mrs. Santiago says the procedure is safe for pregnant women, except those with blood disorders. She monitors fetal movement before, during and after each session. The sessions cost $100 and last for about two hours. She also maintains contact with each woman's physician, she says. 

Some hospitals will not allow women to receive the treatment during labor, so women should check the policy with their physician or midwife. 

Birthing balls 

Once in active labor, having regular contractions with Gage, Mrs. Thomas squatted on her birthing ball for comfort. These rubber balls, also used for exercise and physical therapy, are about 2 feet in diameter and can be purchased in sporting goods stores and online for less than $20. 

"The only thing that comforted me was sitting on that birthing ball and rocking," she says. "That was the only thing at this stage that made the pain bearable. The labor pain is always there, but [the ball] kind of gently stretched the muscles, the legs, the back, your pelvis." 

Sitting on the ball allows a woman to squat without putting pressure on her muscles, says Nancy Ottenstein, a childbirth educator at Sibley Memorial Hospital in the District, who encourages their use. 

Squatting is often comfortable for a woman in labor and can open up her pelvic area to help labor progress, says Joanne Hasman, a certified nurse-midwife at Special Beginnings. Women also can place the ball on a bed and drape themselves over it, which Mrs. Thomas did during labor with Eve. 

Dr. Fred Guckes, an obstetrician and gynecologist with Annapolis OB-GYN Associates, says the use of birthing balls has increased. "I've seen a big explosion lately, and a lot of people are pretty happy with it." He adds, "the more choices you have I think the better off you are." 

Pools, breathing methods 

Kelly Valceanu raves about her experience soaking in a birthing pool, which she rented for $200 and used for half her labor with her son, Joseph, now 3. 

"The thing about it was you can easily assume any position in there. You're weightless," says Mrs. Valceanu, of Alexandria. "It's hard to be tense in hot, warm water." 

In addition to renting a pool for a home birth, women can use large bathtubs, whirlpools or seated showers at some hospitals and birth centers. 

Doctors say they regularly see women using warm water during labor. 

"It helps with muscular-skeletal relaxation," Dr. Rothman says. "It's like a hot compress, but it's a constant hot compress." 

Mrs. Valceanu, a childbirth educator and doula — a person who provides nonmedical support to a woman before, during and after labor — also recommends using cotton balls doused in favorite scents to relax or energize a woman and placing a heated rice-filled sock on sore muscles to soothe aches and pains. 

Jennifer Drenning delivered her son, Bryan, last month after 30 hours without any pain medication. She says HypnoBirthing, a technique of using breathing and scripts to relax into a sleeplike state, benefited her. 

"The breathing techniques and the visualizations that HypnoBirthing teaches, I found extremely helpful," says Mrs. Drenning, who learned the method through a class and home practice. 

Hypnosis has been used during labor for more than 40 years, but it has become more popular as reports of its use have spread over the Internet, says Katya Scholz, a childbirth educator and HypnoBirthing instructor who trained with its founder, Marie Mongan. 

Although Mrs. Drenning, of Northwest, says she found the techniques difficult to use while pushing, she never thought about asking for pain medication. 

"During the laboring phase, I think it did help reduce the pain, to pre-empt it before I even had to think about coping," she says. She advises women planning to use the technique to practice frequently. 

"It was intense," Mrs. Drenning says. "It took everything I had to stay focused on doing what I was doing." 

Hypnosis and other methods that focus on breathing provide patients with a distraction from their pain, Dr. Rothman says. 

"It doesn't help them get rid of the pain," he says. "It helps them deal with their pain." 

The American College of Obstetricians and Gynecologists does not have a position on using hypnosis, water, birthing balls or acupuncture during labor or birth, says Alice Kirkman, a spokeswoman. 

Lamaze classes often provide information about hydrotherapy and relaxation and massage techniques, according to its Web site (www.lamaze-childbirth.com). 

Epidural, spinal blocks 

Kathleen Beres says she knew she would quickly request an epidural if her pain became severe during labor with her son Noah, 3. 

"I'm not of those people that believes you have to be all natural," says Mrs. Beres, of Gambrills, Md. "Why put yourself through unnecessary discomfort and pain if there's modern medicine?" 

About 60 percent of women nationwide receive an epidural or spinal block during delivery, according to the American Society of Anesthesiologists, and about 80 percent in the Washington area, Dr. Larsen says. 

Doctors say many women agree with Mrs. Beres, citing this as one reason for epidurals' popularity. Other factors include how painful a woman's labor is and her commitment to having a natural childbirth. 

"It's probably a combination of what people expect, how well it works and kind of the way Western medicine works," Dr. Guckes says. 

When performing an epidural, an anesthesiologist injects a local anesthetic through a tube in the patient's lower back into a space just outside the spinal cord, which consists of nerves and a sack of fluid. When the anesthetic is injected outside the sack, it diffuses and causes the nerves inside to interrupt their transmission of pain, Dr. Larsen says. 

The dosage of anesthetic commonly used today alleviates pain without causing a woman to lose motor function, including the use of her legs, which she can use to push the baby out. 

"The trick is to leave motor function intact but alleviate the pain," he says. "This allows her to maintain a frame of mind in which she can communicate with the father of her baby." 

With a spinal block, which is used during a Caesarean section or in combination with an epidural, the anesthetic is injected directly into the spinal cord fluid. This provides stronger, quicker pain relief but causes loss of motor function. 

"It kind of took the edge off," Mrs. Beres said. "I could still feel the labor pains, it just wasn't as intense. I can't imagine if I didn't have it. And I never even got to the point where I pushed." 

After 18 hours in labor, Noah's blood pressure dropped and doctors performed an emergency Caesarean section, for which Mrs. Beres was given a spinal block through the epidural that was already in place. 

Although epidurals are common, there are risks associated with the procedure, including a "spinal headache," a severe, often long-lasting headache caused by a puncture of the spinal cord sack. A women's blood pressure may also drop dramatically, putting the baby at risk, or the local anesthetic can numb her breathing, although this is rare, Dr. Larsen says. 

"I just wasn't concerned about the risks, because I feel like it's a procedure that's done pretty regularly," Mrs. Beres says. 

Woman also can receive intravenous injections of narcotics, such as Demerol or Stadol, but unlike the epidural, high concentrations of these drugs are passed to the baby and can put the infant to sleep, Dr. Larsen says. 

Some women will request them if they can't have an epidural or are afraid of the procedure, he says. 

Women with bleeding disorders, skin diseases or back problems, such as arthritis, should not get epidurals, Dr. Larsen says. An anesthesiologist may not always be available to perform the epidural or may not be able to place the tube in her back correctly. 

A woman in significant pain early in labor, when she is dilated about 2 or 3 centimeters, also can receive another pain reliever, Nubain (Nalbuphine), Dr. Rothman says. This sedative can be passed to the baby but is usually out of the baby's system by its delivery. 

Women should examine all their options before labor because they doesn't know how they will feel once contractions begin, Dr. Guckes says. 

"I think it's a disservice to patients to use a one-size-fits-all strategy," he says. "Everybody's different, and everybody deserves to know all of their options." 

Copyright © 2003 News World Communications, Inc. All rights reserved.