When demotion is the perfect thing
| filed under: Miriam's Kitchen, Volunteering, Miriam's, Homeless, Homelessness, Volunteer
Demoted demotion at Miriam's Kitchen!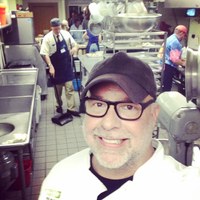 Chris Abraham at Miriam's Kitchen
As of today, I have traded responsibility for fun at Miriam's Kitchen--from Sous Chef to Dinner Volunteer.
I've been volunteering at MKs since 2010. Recently there have been so many changes that my head is still spinning. MK's new kitchen is a lot more strict and professional.
In lieu of feeling like I am working the line as Les Halles, I demoted myself to just a generic Dinner Volunteer. I bet I'll start having fun again, serving my homeless guests and enjoying my standing Thursday 4PM-6:30PM dinners.
I am sorry to admit this but I need to enjoy myself full in addition to serving my homeless guests, especially when I volunteer every Thursday.
I want to look forward to my time at Miriam's Kitchen instead of dreading it. I guess this is my Seven-Year itch. I actually was pretty willing to end the relationship--to quit--but I just accepted a sweet, sweet, demotion.
Ironically, after year one of being a Sous Chef at MKs, I gave up wearing the Chefs Jacket, preferring just to wear the simple apron.
Until recently, however, I had always been Dining Room Captain, which is a much different job than working in the kitchen. But I love working on the Dining Room! I get to spend time with my guests and with those amazing Angels, the Case Managers, MK's spocial workers--the real reason why the kitchen even exists.
So, maybe this has been a long time coming. I am actually quite relieved now. All I need to do is serve my community. A am no longer a Essential Staff--I am non-essential staff!
Plus, I have 7-years of Sous Chef and Dining Room Captain experience! I am a de facto understudy! I am a double-secret pinch hitter!
Plus, I am not driven my prestige or status--let everyone else have that in the kitchen!
I just hope that Martha Wolf can get me the OK to start sharing my volunteering on social media again--that is kind of a deal breaker.
I miss Jennifer Roccanti, Ashley Lawson, John Murphy, and Emily Hagel Paul so much!
Great news! Ciji Wagner is pinch hitting as Chef today during my service! I miss her, too.