What I think the wall that Trump built is for
To me, this wall has nothing to do with the illegal border crossings that are happening now, it's in preparation for a flood of immigrants that will result if (when) we start military actions in Latin America.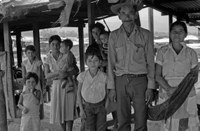 Mesa Grande Refugee Camp 1987
Call me cynical but I believe the wall is a prophylactic against a belief that there will be the same sort of flood of refugees that are migrating from Syria, the Middle East, and Africa into Southern and Western Europe that will eventually come streaming up from Central and South America when America goes rubblizing through Latin America, starting with Venezuela.
My assumption and opinion are that this is being built in advance of any of these sort of avoidable eventualities. The USA has yet to fully, effectively, foment Venezuela into a Civil War, which will also affect Colombia, Guyana, Brazil, and also Panama, Costa Rica, Nicaragua, Honduras, El Salvador, Guatemala, Belize, and Mexico
—the land road from Venezuela to the United States. 
If you want to see the proof for this kind of reaction in action, between 1979 and 1992, 1.5 million Salvadoran refugees emigrated to the USA as refugees.
And, a wall could also be perceived as a prophylaxis against the aggressive migration that would be the result of South America and Central American climate collapse resulting from the drought, flooding, pestilence, famine, predicted by climate scientists.