What are Online Communities?
| filed under: Online Communities, Online Community
People in a virtual community naturally group themselves around common interests.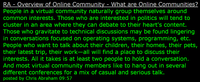 Those who are interested in politics will tend to cluster in an area where they can debate to their heart's content. Those who gravitate to technical discussions may be found lingering in conversations focused on operating systems, programming, etc. People who want to talk about their children, their homes, their pets, their latest trip, their work—all will find a place to discuss their interests. All it takes is at least two people to hold a conversation. And most virtual community members like to hang out in several different conferences for a mix of casual and serious talk.