Update to my VXi BlueParrott B450‑XT Bluetooth headset review
vxi blueparrott b450-xt bluetooth mobile headsetI received my BlueParrott B450‑XT Bluetooth trucker headset from VXi Corp last week and have put some time on it.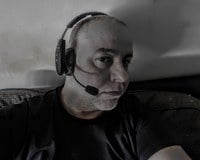 Selfie with a BlueParrott B450‑XT Bluetooth trucker headset

I received my BlueParrott B450‑XT Bluetooth trucker headset from VXi Corp last week and have put some time on it. Long story short, the sound can go louder than you should listen and the tone is very warm and not tinny or trebly like many headsets. The connection is quick and sure.
The headset worked immediately with the VXi BlueParrott app I installed on my Samsung Galaxy S6 Active with Android 7 and I associated the Parrott Button with mute and it worked fine.
The mute is headset-based and doesn't turn on mute on your phone. While muted, there's a light tone that reminds you that you're on mute.
I took a long walk in the Summer sun and the B450-XT definitely makes my head hot. All my heat moves through my head so the headset got pretty sweaty, maybe resulting in the headset freezing up on me at my halfway point.  
When I first put the headset on, it was pretty heavy. I quickly got used to it, no worries, because the deep tone and vibrant sound makes up for it, compared to all the other VXi BlueParrott Bluetooth headsets to say nothing of all the other headsets I have had from Platronics, Jabra, and Jawbone. It is huge, it is like a set of Beats headsets but with only one housing and earpad. 
Here's a comparison between the size of the B450-XT and my B250-XT+:
I rode on my Surly Steamroller to Miriam's Kitchen last Wednesday and it wasn't too heavy and it. And, unlike my experience with the Plantronics Voyager Edge and the VXi BlueParrott Bluetooth headsets, there's wasn't a single stutter or problem with the connection when I was listening to podcasts while I rode from Columbia Heights, Arlington, Virginia, to Foggy Bottom, Washington, DC.
In terms of sound and volume, if I increased the volume of the phone to max and then set the headset to max volume, I could clearly hear my podcasts during even the windiest day on the bicycle. 
After testing phone calls while riding (I don't recommend it), nobody I called could tell that I was riding my bike or that I was moving through the wind. That's brilliant. If folks can't tell I am riding a bike then they'll surely not be able to tell that I am in a park or working from the cafe. 
The battery last forever with two exceptions:
the B450-XT will always outlast your phone's battery (make plans) and
I've had a couple problems with my B450-XT seizing up and freezing out on me.
When my B450-XT freezes up
UPDATE: I reached out to VXi Corp for help via Facebook and Twitter and they quickly got back to me on Twitter, acknowledged the problem, and asked me to update the firmware on my B450-XT, which just requires downloading the VXi Updater, installing it, plugging in either your B350-XT or B450-XT, allowing your USB time to identify and install any required drivers. Then, once the VXi Updater recognizes the VXi Corporation Blueparrott headset, you can click the update. It'll take a while for the process to complete so please don't mess with anything because firmware updates are tricky. Everything turned out perfect; however, I haven't tested it out so I don't know yet if it works. I'll let you know. Looks good so far!
Once the headset freezes, nothing will reset it until I plug it in to its microUSB charger. Otherwise, I can depress the power button for however long and it won't reset.
I think the same thing happened with the B350-XT but never happens or happened with my old B250-XT+--ever. I am hoping it's a fluke. It's only happened twice so far. 
It's my only concern and I will be sure to reach out to VXi Corporation to ask them about this freeze up. I have done some reading and the only way to reset the Bluetooth headset is to plug in into the charger, which is lame.
I'll just keep a USB charger on me
I need to find out if it's an issue that's between my particular Android or the apps I use or whether my head is sweaty or not.
My hack fix is to keep a charger on my bike--which I need anyway in order to keep up with the Blueparrott's unlimited battery and my S6 Active.
That will solve any issues with the headset freezing up on me.