My Puppy Suzi, My Ex Michelle, and a Doggie Neurologist, Part 2
While I was eating a Subway hoagie and watching the first season of the Sopranos on Teddy & Michelle's DVD system, I noticed that Suzi was in fact acting very oddly.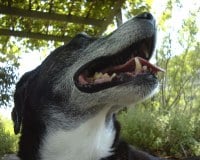 Suzi the Dog
Still quite perky and loving (oh what a love!) and sweet and beautiful, she was suffering periodic spasms. Head nods and the kind of body spasm you might recognize when you have a chill up your spine. A quick and temporary full body shake. So, we were going to take Suzi, who based on the latest information might be closer to 15, to South Paws -- a Vet clinic in Springfield, VA -- to see a neurologist.
South Paws is unlike any vet I have ever seen. Its in a commercial area. A strip mall industrial area. There is an entrance for dogs to the right and to its left an entrance for cats. The cat waiting room is proportionately smaller than the doggie area.
We did a little waiting. In the waiting room at 3:30 there were an equal number of receptionists as there were clients with their four-footed patients.
A receptionist for Holistic health, for Radiology, for Surgery, and for us, Neurology.
The receptionist led Michelle and me into a small room. The room looked like a therapist's office. Its square floor was covered diagonally with an oriental rug. There were two club chairs. The stainless steel examination table was folded up into the wall. The lights were not harsh.
Suzi was not the least bit nervous; her nerves didn't increase when our neurosurgeon came in. He was tall, handsome, a little Native American vibe. Cowboy boots, boot-cut jeans, and a snap-down richly-colored cowboy shirt.
He interviewed us, asking us a series of questions about Suzi's health and her recent quirks.
After a thorough examination, we knew what it probably isn't. It isn't a spinal pinch. It isn't nerve-damage, and it isn't Lyme disease.
Oftentimes, the doctor says that most of his cases are clear. 80% or more certainty of a diagnosis. Suzi was a lot less clear.
What it might be is a intracranial growth. We could only know if we gave Suzi an MRI. Suzi is old, the doctor said, and people usually only get their pet MRIs for two reasons. Reason one is in order to perform post-MRI procedures; reason two is just to know. To know.
The course of action -- the procedure -- is a course of steroid treatment. We don't know, but she might have a brain tumor or a brain growth. Although Michelle and I are still discussing our next step -- and Michelle is discussing it with Teddy -- I believe we will try out the steroid treatment to see if we can keep up a quality of life for sweet and gorgeous Suzi.
More to come.