My Mojo Left With My Picnic Basket
| filed under: Picnicking, Picnic, Seduction, Romancing, Lovemaking, L'Amout
I am on the hunt for a new picnic basket.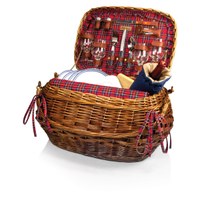 Best Picnic Basket
Ever since my long-time ex stole the fancy-as-hell picnic basket that my best friend Mark got me (to kickstart my studliness and mojo in the first place).
I have been much less Romantic and have done very very poorly in the dating scene.
I blame it on the loss of the handmade picnic basket, rife with a red checkered blanket, crystal glassware, real silver, little glass and silver salt and pepper shakers -- the whole nine yards.
I need a new picnic basket.
When my ex took my picnic basket (yeah yeah, "let's go on a picnic" was my thing) it was like Delilah taking Sampson's hair.
Poof, my mojo was gone!
Well, I am on the hunt for a new picnic basket and will start in the most obvious spot, ePicnicbasket.
If you have any ideas where else I can find something as fly, let me know.