Miriam's Kitchen Chili Cook Off Winner for Meat Chili
I adapted my recipe from one that Thomas Byers posted online, The Worlds Best No Beans Chili.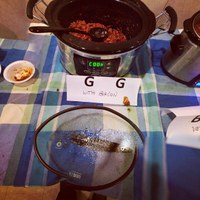 The winning chili
I bought my bacon and my beef brisket from Giant's meat counter. To it, I added ¼ teaspoon of Fatal Ghost Pepper hot sauce from PK Hot Sauce, I halved the beef brisket and added two-and-a-half pound of diced venison to the mix. I amped the unsweetened dark chocolate from 1 to 1.5 ounces, added a pinch of cinnamon, and garnished the chili with an ounce of Goya Green Pickled Jalapeno Peppers and an ounce of Goya Chipotle Peppers In Adobo Sauce.
I chopped up the all the venison, bacon, and beef brisket into a large bowl. Then I chopped up the onions and garlic. I heated a large iron skillet to high heat, melted the butter, and sauteed the onions and garlic until they were soft and translucent. I added an equal amount of bacon, beef, and venison into the hot pan (high heat) and cooked the meat until browned. I scraped the pan and put the meat, onion, and garlic into a pot. Then continued browning the meat until all the meat was browned, each time, into the pot. Since I didn't have a lot of time, I mixed all the remaining ingredients into the pot and brought the whole thing -- all the ingredients and all the meat -- to a boil over high heat, being careful to stir, stir, stir. I did this because my crock pot was taking forever to heat, even at high heat. So, since I didn't have the full 5-hours I needed, I cooked the chili like I would a stew or soup while volunteering at Miriam's Kitchen. I didn't have one pot that was big enough at home so I split everything into three saucepans. Be ready to improvise.  After getting the entire mix into a good rolling boil for maybe 5-10 minutes, I emptied chili into my crock pot, covered it up, and kept it on high for the 2.5 hours I had left. When I arrived at the cookoff, the chili had another two hours to mellow on low heat. Before serving, I strained off two cups of liquid and made sure I strained off any grease or fat. 
Ingredients
1 Pound Of Bacon Cut Into Very Small Pieces
1 Pound Of Sweet Onion Diced Very Fine.
2.5 Pounds Of Small Cubes Of Beef Brisket.
2.5 Pounds Of Small Cubes Of Venison.
2 Tablespoons of Salted Butter (for browning meat)
1/3 Cup McCormick Chili Powder.
1 Large Heaping Tablespoon Minced Fresh Garlic.
1 Pinch of Cinnamon (⅛-¼ teaspoon)
1 Large Heaping Tablespoon Ground Cayenne Pepper.
1 Tablespoon Cumin.
1 Tablespoon Oregano.
1 Tablespoon Ground Sea Salt.
1 Tablespoon Black Pepper.
3 Four Ounce Cans Green Chili's.
3 12 Ounce Bottles Corona Beer.
1 28 Ounce Can Diced Tomatoes.
1 Teaspoon Coriander.
1 Six Ounce Can Tomato Paste.
1.5 Ounce Unsweetened Chocolate Very Coarsely Chopped.
1 Ounce Goya Green Pickled Jalapeno Peppers
1 Ounce Goya Chipotle Peppers In Adobo Sauce.