Memories of Finca Buena Fuente Hotel Costa Rica
| filed under: Travel, RNNR
I've been on the road since the 11th of February attending my common law brother's, Mark Harrison's wedding to Jackie Baumgarten.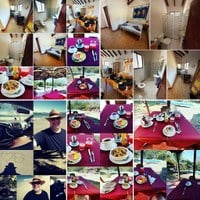 I've been on the road since the 11th of February attending my common law brother's, Mark Harrison's wedding to Jackie Baumgarten.
The entire wedding party stayed in condos and hotel rooms at the The Westin Resort & Spa, Playa Conchal, but I waited too long to get my room so everything was booked.
 My girlfriend was able to find a little nearby hotel with the most lovely and devoted reviews around 2.4 km/1.5 miles away called the Finca Buena Fuente Hotel -- and it was the epitome of Pura Vida, the Aloha Spirit for us Kama'ainas from Hawaii. And it's even closer to Conchal Beach via public roads and not via Westin's gated propety. Here's the review I submitted to Trip Advisor:
When I arrived at Finca Buena Fuente I didn't know what to expect. I arrived late at night in a Toyota Sedan after driving over rutted dirt roads in the dark. It's at the end of a dark washboard dirt road.
And you need to do a little mind off-road driving to get parked. When I arrived, a charming man came out to meet me and direct me to my parking space and room, across a little bit of off road trickiness, which my car was fine with, actually, but an SUV would always be the better choice in Costa Rica.
This hotel is completely eccentric and delightful. My room was spartan but clean and happy -- but it's not at all like the Westin. It's Costa Rica not Florida South. I had a kitchen I didn't use. There was a coffee pot but no coffee. But that didn't matter:
The best thing about Finca Buena Fuente is the coffee, the food, the service, the cook/waitress, and the amazing hosts, the hoteliers themselves, Luka and Livia.
They were amazing. They're Milanese Italians who opened this hotel and Northern Italian restaurant and garden. They're amazing. They're gracious, friendly, charming, and were more than willing to work to make me happy.
I was at Finca Buena Fuente to attend a wedding down the road at the The Westin Playa Conchal.
Finca Buena Fuente is only 2.4 km (1.5 miles) away -- all the description have it wrong, it's much closer to Playa Conchal -- and super close if you just want to get to Playa Conchal -- it's literally a ten-minute drive over dry rutted dirt roads.
If you take the "direct route" from Finca Buena Fuente to Playa Conchal you'll end up near a lovely local restaurant, safe free parking, and a mile of beach.
Since this is a health and fitness blog, I walked the entire mile-long beach. The sand near the public access road came out to beachside is very dense and broad and really easy to walk on. The sand is fine and compact. You could even easily run on it. Oddly, as you approach the Westin, the sand becomes very loose and gravelly. The only reason I mention this is because it seemed like the walk got harder and harder the further I went towards the Westin. I thought, can't I walk even a mile in the sun along a beach?
It's because the beach became progressively looser and harder to walk through that I was suffering. When I finally got some water in my at the resort and started heading back, it started off really tough and felt like I was schlepping through quicksand; however, when I hit the beach half-point, it became much more dense and solid underfoot and super-easy to make the second half.  The two way journey got me just under 10,000 steps, according to my Fitbit Surge.  I recorded the trip and it looks like it was more like around three miles total.
A lot of the maps have it wrong and Livia tells me that she's always trying so hard to make the changes with all the review sites and the maps -- actually, their hotel's land abuts the Westin Resort -- promise -- but it's not that close to Playa Tamarindo or Tamarindo city.
Though not included in my $90/night stay (I think I was led to believe that breakfast was included on the Expedia page) I had morning breakfasts that put the buffets I got from the nearby Westin to absolute shame.
Fresh handmade yogurt, watermelon juice, granola, papaya, little bananas, all grown on the grounds, pots of delicious coffee, and tap water from their well that was sweet and never made me sick, just happy.
They made me eggs, too, and I got two eggs, over easy, once I let them know if and how I like me eggs. Oh, also, home made bread and toast with grass fed butter and preserves. So good. Superior.
I would return to Costa Rica just to stay here and see this amazing couple. At the end of the day, Luka and Livia felt like family.
By the way, when Expedia asked me for my initial impressions, I wrote that I didn't like my little twin-size bed at all. Livia must have received the initial review because she immediately upgraded me to a queen size bed, which made me happy. Though the beds are memory foam, they're not Tempur-Pedics, they're the old fashioned memory foam. I was then very satisfied.
Bring your own shampoo and conditioner as they only offer two small bars of soap, but the water pressure is good, the water is Western potable to drink and bathe in (it's well water), and the hostess, Livia, even makes her own bread, yogurt, juices, fruits, and also runs a northern Italian restaurant on sight (she's from Milan).
The meals are all extra, I'm led to believe, including breakfasts, but they are most assuredly with it. Also, I seem to be the only guest most of the time, which means I got a lot of special attention. I would surely come back here, but not on a honeymoon or to impress a girl or a girlfriend, or a wife. This is for travelers and not really vacationers. I love it here. I prefer it to that nancy Westin down the unpaved road.
That said, the owners, from Italy, are charming and personally very attentive, the breakfasts I have had have been the best breakfasts of my life, the view of the sky at night is amazing, it's quiet, exotic, lush, and there's even free spotty WiFi, sky TV (cable/dish), and a pretty good A/C.
Come here for the stars, the owners, Luka and Livia, the breakfasts, the service, the solitude, and for the adventure without the risk (this is a very very safe hotel, you'll love it, I promise, though the beds really do suck). I paid $90/night, last minute, high season. Much better than the "could be the USA" $600/night Westin.