Here's How to Balance Self-Care With Your Side Hustle
Here are some easy self-care strategies to implement today.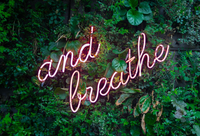 Image from Unsplash
It's never been as easy as it is today to start a side hustle. The gig economy is booming, demand is high, and there is a niche for every kind of interest or worker out there. In addition, starting a side hustle is an excellent way to supplement your regular income. The only thing is, between working two jobs, managing your social life, and hustling for good measure, there's not a lot of time leftover for you. But to prevent burnout and ensure success, you need to be prioritizing self-care. 
Finding Work-Life Balance 
Work-life balance is what we're all striving for. When focusing on your business, don't forget to prioritize family time or pursue personal hobbies or interests. Using tools or software will be an excellent way to free up time so you can achieve balance. For example, an online invoice maker allows you to choose from premade templates that make creating customized invoices easier. You'll be able to include text and logos and even download the invoice in your preferred format. Another great tool will be a customer relationship management (CRM) tool. This will help improve communication between you and your customers while incorporating their feedback and answering their questions.
You can also find greater work-life balance by taking up hobbies in your free time. It can be something like learning to make your own music and play the drums. In this case, you should look into getting the best drum machine effects pedal for your studio.
Don't Compromise on Sleep
Look, we get it - when you're super busy, sleep is the first thing to go. But healthy adults need 7-9 hours of sleep each night, without which it's challenging to function optimally. With a lack of sleep, you'll see your energy reduce, focus decrease, and mood swings increase. Instead, try to set boundaries with your sleep hygiene. Go to bed at the same time every night, read before you sleep, and avoid too much blue light usage the last few hours you're awake. These simple habits will refresh you immensely and enable you to tackle all your responsibilities in stride.
Build A Strong Support System
Contrary to popular opinion, you can't, in fact, do it all. When you have so much on your plate, it really does take a village. Having a primary support network of loved friends and family will be invaluable for your hustle. They will be able to step in to help you with chores and tasks and provide mental support and encouragement. In addition, it will be critical to building support of other kinds. Make an effort to network with other motivated individuals like yourself. Attending local entrepreneurship meets in your city or online will enable you to find your business tribe, who can help you solve problems, provide mentorship, and share struggles. Be sure to also reach out for help and support on specific tasks, so you can focus on running your business. For example, hiring professionals to cover accounting or inventory needs will really free up your time. Registering your business as an LLC will also significantly help, as you will have less paperwork and administrative hassles to figure out. Using a formation service in Virginia will help you avoid hefty lawyer fees.
Stick to a Schedule
As a side hustler, you're likely trying to maximize each hour of each day for maximum productivity. However, maximizing your schedule can be counter-productive, as you'll see yourself falling short on time and energy. Instead, leave yourself some breathing room to recuperate. Next, schedule smart - where you can kill two birds with one stone, do so. Leave enough time between tasks, and have firm boundaries between your social life, work, and business responsibilities.
If you've got a day job, side job, home life, social life (and so much more), you're likely a motivated, self-driven go-getter. But being tuned in all the time does come with adverse consequences. A study by StudyFinds reports that one in three Americans is burned out. That's where self-care comes in. Prioritize your well-being for a happier, more successful you today.
Image from Unsplash