Four days into the 2023 Concept2 Fall Team Challenge
| filed under: Online Rowing Challenge, Fall Team Challenge, Potomac Boat Club, Concept2 Team Challenge, PBC
Rowing 5,000 meters-a-day with a goal of 10,000-meters-a-day. I am still getting over something akin to RSV or COVID or Flu or Cold or Grippe or something. But I am still proud of my progress.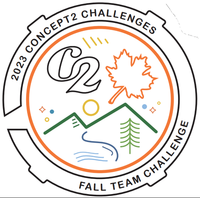 Fall Team Challenge
I am doing the best I can to keep abreast with this year's Fall Team Challenge alongside the team Potomac Boat Club and we only have 7 rowers, 5 of whom have put some meters in. Here's how I have been doing so far:
| | | | |
| --- | --- | --- | --- |
| Date | Distance | Time | Pace |
| 09/17/23 | 5,015m | 30:12.5 | 3:00.7 |
| 09/16/23 | 5,005m | 30:16.0 | 3:01.4 |
| 09/15/23 | 5,512m | 34:11.5 | 3:06.0 |
Indeed, I am as slow as syrup but I am starting slow and allowing my strength and fitness to meet me halfway and soon I will be able to spend an hour to ninety minutes on each nightly row. This is an important and essential kickstart to my knee and leg strength. I want to be able to run for 60-90 minutes slow-rowing, broken up with hard 10s and hard 20s to bring some HIIT high-intensity in there. Here's how the team's doing:
We're all getting our butts kicked by 72-year-old Andrew Narva! Respect. Compared to everyone, we have rowed 151,384m so far and we're, globally, #87. 
Wish us luck and we look forward to having Frederich Lightner and Stuart Kerr joining the challenge!