Father Downing's Obituary from The Washington Post
The Reverend Richard Ernest Downing (1944-2021)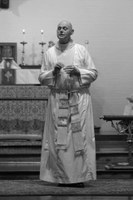 Father Downing (1944-2021)
Published in The Washington Post on Feb. 13, 2021:
The Reverend Richard Ernest Downing passed from this earthly life early in the morning of February 10, 2021, in the peace of the knowledge of the heavenly banquet that is awaiting him.

A faithful priest of the Episcopal Church for nearly 51 years, Dickie cherished his vocation and touched countless lives in meaningful and profound ways.  

He was born on July 27, 1944, in Allegan, Michigan, and spent much of his young life abroad. During these years, he absorbed the cultures of the destinations at which his father was stationed and developed an abiding respect for the inspiring diversity of the human family. His education included the Prince of Wales College in Montevideo, Uruguay, and, following undergraduate studies at Georgetown University, he earned his M.Div. at the General Theological Seminary in New York in 1969. He was priested at Washington National Cathedral on June 14, 1970, by the Right Reverend William Creighton, a cherished mentor.  

Dickie was pastor to communities in the Maryland suburbs of Washington until he was called as Rector of St. James' Episcopal Church, Capitol Hill, in 1976, a community he lovingly nurtured until his retirement in 2008.

Steadfast in his dedication to the missionary imperative of the Anglo-Catholic movement, Dickie made the parish a beacon of light on the Hill, especially in the darkest days of the AIDS pandemic. His love of sacrament, his tender care of the broken, and his intimate pastoring were hallmarks of his long vocation.  

Dickie was preceded in death by his father Ernest Eugene Downing, and his loving parents Donna Isabel Murray Downing and Harold Raymond Griffith. He was in life devoted to his beloved wife, Patricia Steinecke Downing, his five Godchildren, and his countless friends, who will join at a future time to celebrate his life and witness at a Requiem.

In lieu of flowers, donations in Dickie's memory can be made to St. Monica & St. James Episcopal Church, Washington and Trinity Episcopal Church, Wilmington. May he rest in peace and rise in glory!