beehive North America launched
| filed under: beehive NA, beehive GmbH
beehive North America's initial focus will be in providing a variety of Zope Education & Publishing services and getting to know the the local Washington D.C. Zope community.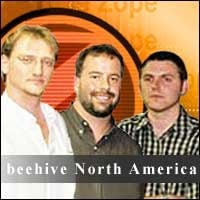 beehive NA
"We are extremely excited to have beehive's in two of the most important political and economic capitals in the World -- Berlin and Washington D.C." says Mark Pratt Managing Director of beehive GmbH.
"In Chris Abraham we have found an extremely capable and motivated Managing Director to head beehive North America."
Chris is is already active bringing together not just the Zope but also the Python community by helping organise monthly meetings in Washington D.C.
"As Capitol cities and brain trusts, Washington and Berlin are natural sisters. beehive North America and beehive GmbH have taken the initiative to harness this energy into building a powerful community of Zope developers, creatives, evangelists, and enthusiasts. I for one am very excited to be a part of this grassroots campaign to enlighten people as to the power and elegance of this groundbreaking Open Source phenomenon" says Chris Abraham.
beehive NA and GmbH offer monthly Zope Training classes. For additional events beehive is helping to organize in Berlin and Washington D.C watch these pages!