Attend my Online Cryptocurrency, Blockchain, ICO, and Bitcoin Conference for Free
| filed under: NewConference, Newconony.media, Blockchain, Crypto, Newconomy, UBAI, Cryptocurrency, Online Conference, Blockchain Conference, Bitcoin, Virtual Online Conference, University of Blockchain and ICO
My new publication, Newcononmy, is partnering with the University of Blockchain and ICO to host a free online conference from 3-6 December devoted to the Blockchain, the business of Token sales and fundraising with ICOs, global marketing, and community development, and market analyses of Bitcoin, Ethereum, and the general cryptocurrency market.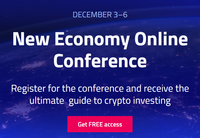 New Economy Online Conference
The New Economy Online Conference team challenged themselves to host the most-attended blockchain event in history. Their goal is simple: get into the Guinness book of world records. Come join the NewConference community now for free.
To make that happen, Newconomy and the University of Blockchain and ICO (UBAI) are partnering together to collect the world's best speakers on blockchain and cryptocurrency into one place online, available and accessible to attendees over the course of four days, December 3-6, 2018—less than a month away. Our partner, UBAI, provides the world's first practical education in the fields of Blockchain and ICO, so there's a natural synergy between the two organizations.
The New Economy Online Conference team is collecting digital financial market geniuses, blockchain, and crypto opinion leaders, and successful industry leaders to become the foundation of this exciting and unique event, providing inspiring speeches and deep insight through panel discussions—all accessible online via a smartphone, PC or other devices.
Speakers, honorees, luminaries, experts, panelists, and attendee include John McAfee; Brock Pierce, Managing Partner of Blockchain Capital, Brad Garlinghouse, founder of Coinbase; Brunello Pianca, President and Board member of Swiss Association of Crypto investors, Quadrans; Hans Konig, founder of Vicarium; Jack Huang, UBAI Advisor; Anton Dzyatkovskii, Co Founder of Platinum Listing LTD; Dan Khomenko, Co-Founder of  Platinum.Fund and The University of Blockchain and ICO (UBAI); and dozens more.
Since launching on September 10, Newcononmy has been building. We started out as a source for crypto, blockchain, and fintech news, then we grew to become a source for market data and trends; soon after, we became a community; now, we're hosting our first virtual online conference.  Starting on December 3rd, 2018, through the 6th, Newconomy will host an online conference in order to develop an active dialogue with the global cryptoeconomy community. Free of charge.
While the titles might change a little, here are some of the proposed topics for this conference:
Understanding blockchain technologies & markets
How crypto will renew modern finance
The best countries for an ICO launch
Cybersecurity and the blockchain: technology for our safety
ICO campaigns: from zero to business
Liquidity problems in current cryptocurrency exchanges: fiction or reality?
Mass adoption – crypto for the average person
DEXs: will they change the rules of the game?
Crypto security: threats and opportunities
How to build a regulatory framework for blockchain
Major problems and solutions in the cryptocurrency market
How to not go insane in a 24/7 market?
2019: to the moon or it's not a bottom yet?
How to raise investments on the downward market
Cold wallets or exchange accounts. How to secure funds for different types of market participants.
Does crypto need regulation and licensing? How to regulate DEXs.
Our first Newconomy conference is completely free, using a new online format where everyone is welcome, no matter their age, nationality, wealth, or location. We're having it late in the year in order to discuss and analyze 2018 and then look towards the coming year and contemplating the great opportunities, modern trends, and crucial tasks that 2019 will bring every participant of the conference and in the greater cryptocurrency market.
Via Newconomy.media