24 extremely short reviews of current television programs
| filed under: Reviews, TV, TV Reviews, Television Reviews
I watch too much TV. It runs in the background. I need the noise in order to focus. May you benefit from my sacrifice. Here are 24 extremely short reviews of current television programs for you to check out over the holiday.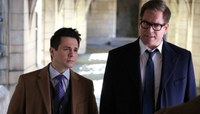 Bull and Benny
I thought I would make up for being tardy by giving you something free, from my heart, that will cost you nothing but all the time in the world (it's a TV list, after all, and this is yet another heyday for television). Because I know you're busy, I am keeping it short. 
The Morning Show is worth joining AppleTV+ for. Jennifer Anniston as the old guard grande dame and Reese Witherspoon as the young gun who is willing to tear down America's darling #1 morning show and its network to get to "the truth" after Steve Carell is drummed out for his part in the network's systemic sexual misconduct and abuse. Jennifer Aniston fills the room. She's got acting gravitas and pathos. 

Tom Clancy's Jack Ryan had a very smart and compelling first season but not even I could suspend disbelief enough to make season two even palatable. 

Bull is controversial because of Michael Weatherly's improper behavior toward the wonderful Eliza Dushku; however, even still, I can't quit you, Jason Bull! I caint, I just caint!

The Blacklist is a meh show; however, I have mad crushes on Megan Boon, James Spader, Ryan Eggold, and Hisham Tawfiq (and I think that's enough).

Bob's Burgers is proof that God loves us and wants us to be happy.

The Mandalorian, to me, is all the good things about all the best Star Wars and no Jar Jar Binks. Totally worth getting Disney+ for it. 

Single Parents? Why do I watch? Probably a crush on Leighton Meester who plays Anglie. But, the ensemble cast is very good, including SNL's Taran Killam and Brad Garrett from Everybody Loves Raymond. 

God Friended Me is secretly a show I can't put off to later. I watch it religiously (har har) every week. Totally predictable and formulaic. But exemplary people in lovely stories and the good guys always win!

Carol's Second Act is only on my radar because who can resist Patricia Heaton? Nobody! Charm for days.

9-1-1 was just about loving on Connie Britton but after she left I require loving on Angela Basset, Peter Krause, and Oliver Stark combined to make up for it. Lost me when they lost Abby Clark.

Bob Hearts Abishola is just fun, adorable, well-written, beautifully-cast, and makes race and culture things of beauty dominated by love each other and of family. It's a personal favorite of mine: shhhhh! 
Watchmen wrenches the soul of Alan from Moore and explores race and slavery and identity and the history of Black Wall Street and the legacy of Tulsa race riot into a parallel universe without the Internet or cell phones but where cops wear masks and the future is getting extremely close to now.

Treadstone is a new series based on the post-Jason Bourne universe. It's really good, especially if you don't live inside the beltway and have an unromantic view of spies and spycraft. If you like Jason Bourne more than Matt Damon, you'll love Treadstone.

Mrs. Fletcher is, to me, just a ginormous dose of unrefined, pure, Kathryn Hahn. From laugh-riot to sad; from romantic to raunchy. No boundaries. Look out for Jackson White, who plays caged animal even better than James Dean. 

Stumptown is more Portland than Portlandia. Or, rather, Portland without hipsters. Cobie Smulders doesn't play a kitten, she's a jungle cat. She's wiry and always bruised up from extreme fist-a-cuffs. Not girly gumshoe, it's badass woman film noir. 

Evil is awesome but it also freaks me out. I grew up Catholic so, to me, all of this is super-real. So spooky, especially when the devil messes around with the girls who play beautiful dutchie, Katja Herbers' character's daughters. Yikes! Of course, Mike Colter is gorgeous to everyone and he's spectacularly in this. 

The Unicorn sucks. Don't bother. Actually, bother if you like to spend time with Walton Goggins, Rob Corddry, Omar Benson Miller, Maya Lynne Robinson, Ruby Jay, Makenzie Moss, Michaela Watkins, and Devin Bright—they're all so charming that it really doesn't matter what Rob Corddry or Michaela Watkins do, they're just fun to spend time with.

The Rookie? I watched for a dose of Nathan Fillion but stayed for Melissa O'Neil (Lucy Chen) and Alyssa Diaz (Angela Lopez). Eric Winter is the arse you love to hate as Officer Tim Bradford. 

The Conners? To keep a finger on the pulse of actual Americans. 

Lodge 49 has me on the hook (I am a Freemason and love shows like this) but it's struggling to keep me.

The Good Place is pure genius and pure comedy and Kristen Bell is surely an ascended goddess, for reals.

Bojack Horseman is the best show ever made if diving into the psyche of addiction and madness with high-end comedy and absurdist figurative animation. You will cry. I will never forget this series. #pathos #regret #love #accountability

Supernatural final season. Boo. Winchesters save the world. It's just what they do. 

Batwoman is the worst. The worst of the worst. Even for the CW.
I just discovered Trakt so all my links just go there. It's a cool site and I am not associated with it in any way. I hope I save you a lot of time and I hope I shed some light on some shows you might have missed otherwise. Let me know if I have missed any, as well. There are just so damn many and not enough nanoseconds in all the timelines in all the universes.