Save HR-57 For the Love of Washington Jazz!
| filed under: Local Spots, Jazz, Venue, Nightclub
Firstly, become a member. Secondly, I guess its time for me to let go of Washington's best secret, which is a Greenwich Village-during-the-fifties-quality source for amazing pick-up jazz -- and its here in the district!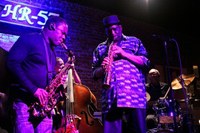 HR-57 Jazz
They need to raise almost half-a-million dollars before April 2003 in order to pay a balloon mortgage payment so please become a member or just donate. Lastly, please give it a go! You will be happy you did!
HR-57 Center for the Preservation of Jazz & Blues is a non-profit music cultural center. We take our name from a House Resolution passed by congress in 1987. This resolution (H.Con.Res 57) designated jazz as "a rare and valuable national American treasure". 

Our mission is to educate, provide experiences, opportunities and information that traverse the full spectrum of the jazz and blues experience. We seek to obtain our objectives by offering programs and activities that are all inclusive. We offer lectures workshops and music lessons for beginning and advanced musicians. Exhibits, theatre and concerts are included activities.

Performances showcase exciting new talent as well as world-renowned artists, and to better serve our community our out reach program includes area schools, colleges and other organizations. 

We are also building a jazz and blues music archive. Once ready, portions of this archive will be accessible to the public.