AAA Mid-Atlantic Offers Bicycle Roadside Assistance
| filed under: AAA, AAA Bicycle Roadside Assistance, AAA Mid-Atlantic, Roadside Assistance, Bike Roadside Assistance, Bicycle Roadside Assistance
AAA Bicycle Service is free and available to all membership levels starting May 1, 2015.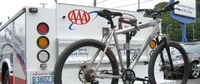 I am currently working with Bash Foo to help AAA North Jersey with their messaging and marketing. During my research I discovered that AAA Mid-Atlantic, my home AAA club, now offers bicycle roadside assistance:
Benefits:
There is no additional charge to Members for bicycle coverage. Any of the Members roadside assistance calls can be used for bicycles
AAA Bicycle coverage is included in all membership levels - Basic, Plus, Premier & RV!
The bicycle towing mileage is the same as vehicle towing mileage - 3 miles for Basic, 100 miles for Plus/Premier and one 200 mile tow for a Premier household.
Coverage & Restrictions:
Member must be present at the time of service and have a valid AAA Mid-Atlantic card.
Bicycle service is not available to Members of other AAA clubs.
Bicycle service applies to all 2-wheeled bicycles, including rental bicycles & tandem/trailers pulled by bicycles.
Bicycle service is limited to transporting a bicycle (Back home, to bike repair shop etc.) due to breakdown disablement. Mechanical repairs not included, including bicycle lock service.
Service is provided only along a normally traveled road or street.
AAA Bicycle Service is provided to AAA Mid-Atlantic Members only within the AAA Mid-Atlantic territories.*
Bicycle service is provided for the rider whose bicycle is disabled and accompanying minors.
There is no sign up or enrollment. AAA Members can use any of their yearly service calls for bicycle roadside assistance. If your bicycle breaks down while you're out for a ride, simply call the road service number on your AAA card (1-800-222-4357).